Top 1O Places to visit in Delhi – Best Tourist Places & Attractions
"I asked my soul: What is Delhi? She replied: The world is the body and Delhi is it's life."

Mirza Ghalib

Why is Delhi so unique?
Delhi, the capital city of India is one of the most vibrant and magnificent cities of the world. The city is not just the nation's political capital but also boasts of the country's rich history and culture. Delhi is History in itself and has a unique culture of its own.
Delhi's Unique History
According to ancient legends and Hindu mythology, Delhi was the capital of the Great Pandavas, (the Kshatriya warriors of Hindu tradition as mentioned in the epic poem Mahabharata) then known as Indraprastha. In the Medieval times, Delhi gained an unprecedented importance with the founding of the Delhi Sultanate. The Greatest of Mughal rulers frequently made Delhi their capital, making the city known even beyond the borders of the Indian subcontinent.The Modern Period also saw Delhi as one of the centres for both the late British rule India's freedom struggle against the colonizers.This diverse and even sometimes conflicting history gave Delhi an extremely rich exhibition of monuments, architecture, markets and food. In the post Independence India, with the advent of Globalization, Delhi emerged as a cosmopolitan city with lavish malls, plazas, restaurants and squares.
You mostly have very limited time to visit such a diverse and vibrant city. So, it becomes quite confusing to select which places one should visit in Delhi.
Hence, OWIC Blogs has shortlisted 10 places you shouldn't miss at any cost during Delhi sightseeing:
1. Qutub Minar
The Qutub Minar is situated at the Mehrauli area of Delhi. It's a 73 metres long, minaret forming a part of Qutb Complex, a UNESCO World Heritage Site. "Qutub Minar" literally means a "Victory Tower". Of its construction, it was started by Qutubuddin Aibak, the first ruler of the Slave Dynasty and was finished by his son-in-law Iltutamish.
The Minar is not only a spectacle in itself but is also surrounded by several other significant monuments of the Qutub Complex.The architecture of this five-storied minaret comprises both Parso-Arabic and Nagari elements. It also has the Quwat ul Islam mosque at its foot.Swarming groups of tourists visit this majestic structure and architectural masterpiece everyday, so make sure to keep it in the list of "places to go" in your Delhi tour.
Timings
Entry Fees/ Ticket price
7:00 am to 5:00pm
For Indians: ₹35
For Foreign Nationals: ₹550
Note: Ticket fees for children below 15 years of age is free.
| | |
| --- | --- |
| Fees for non- commercial camera use | ₹25 |
| Fees for non- commercial video camera use | ₹25 |
2. Connaught Place
The first thing that comes into mind when one thinks of shopping in Delhi is inevitably Connaught Place. Connaught Place, colloquially called "CP" by Delhites, is a prime hub for shopping and business situated in New Delhi. Located in Central Delhi, Connaught Place is an "always running" place consisting of Georgian styled buildings and global chained stores. It was built during the early 20th century. Its architecture is based on Royal Crescent in Bath.

One can find the most expensive and top notch brands in clothing and other accessories. There is wide variety of restaurants to feed your appetite. To many cinephiles' attraction, Connaught Place is a place of very many vintage cinema halls. It's the favourite place of Delhi yes to hangout with family and friends. CP is a historical, cultural and popular haven which must not be missed by anyone who visits Delhi.
| | |
| --- | --- |
| | Connaught Place Timings |
| | Monday to Saturday: 10:00 am to 8:30pm |
| | Sunday: Closed/Holiday |
3. The Red Fort
The Red Fort (also called the Lal Qila)is a magnificent and colossal monument constructed by the 5th Mughal Emperor Shah Jahan in 1639. The Red Fort is a structure built with tall walls of red sandstone, from which it derives its name. It is a UNESCO World Heritage Site since 2007 as a part of the Red Fort Complex. It lies along the Yamuna River. Every year, on 15th August, the Indian Independence Day, the tricolor flag of India is unfurled on the Red Fort by the Prime Minister.
"If there's heaven on Earth,

Then it is this, it is this."

Amir Khusrow
Some of the prominent surviving structures of the Red Fort are:
Lahori Gate: Main Gate to the Red Fort
Delhi Gate: Southern Public entrance
Diwan-i-aam: the public audience hall
Diwan-i-Khaas: hall of private audience
Mumtaz Mahal: houses the Red Fort Archaeological Museum
Khaas Mahal: was emperor's apartment, an octagonal tower
Rang Mahal: "palace of colours"; called so because of the mosaic of the colorful mirrors
Naubat Khaana: the drum house; music was played here.
| | | |
| --- | --- | --- |
| | Reaching Red Fort | |
| | Nearest Airport: Indira Gandhi International Airport | |
| | Nearest Railway Station: Old Delhi Railway Station | |
| | Nearest Bus Stand: Kashmiri Gate Bus Station | |
| | Nearest Metro Station: Chandni Chowk Metro Station | |
| | |
| --- | --- |
| Opening Hours | 9: 30am to 4:30npm |
| Closed Day(s) | Monday |
| Entry Fee (Indian) | ₹35 |
| Entry Fee (Foreigner) | ₹550 |
Other Details:
There's also a light and sound show in the Red Fort with additional charges. The best time to visit the fort is from October to March.
4. The India Gate
India lost her 70,000 soldiers between 1914-1921, while fighting on the British side in World War l. To commemorate these bravehearts, the India Gate was constructed as a tribute in New Delhi. Its architect was Edward Lutyens. It's architecture is reminiscent of Arc de Triomphe in Paris.
The India Gate has become one of the symbols of Delhi and even India. Everyday several tourists visit this Gateway to cherish its grandeur and beauty. The main attraction at the India Gate is Amar Jawaan Jyoti (the immortal flame) which is the metaphor for the never dying spirit of sacrifice and patriotism for one's motherland.
| | |
| --- | --- |
| | The India Gate is open on all days of the week. |
| | Timings: 12:00am to 12:00am |
| | Entry Fees: Free |
| | Timings for Boating: 2:00 pm – 9:00 pm |
| | Timings for Light Show: 7:00 pm -9:30 pm |
5. Chandni Chowk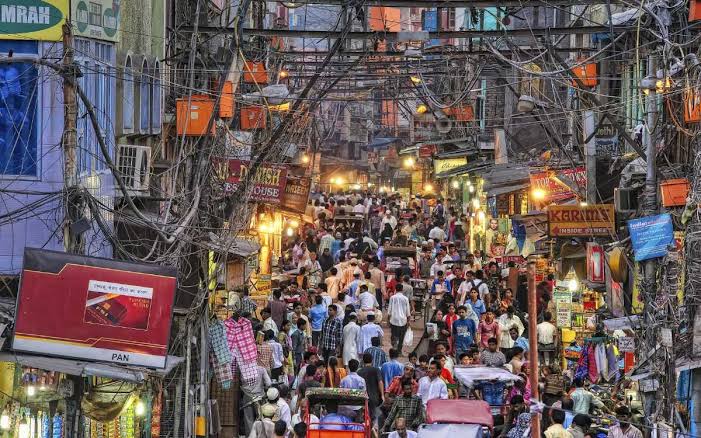 If you actually want to explore the essence of everyday Delhi, there's no better place than Chandni Chowk for you. Chandni Chowk an area often used interchangeably with Old Delhi is beautiful and reflects the everyday Indian life. The narrow lanes of Chandni Chowk are a statement in themselves. The faded sunlight that reaches these lanes, looks like a photo filter in real life. There are numerous old houses and shops in this area. In order to explore the mundane side of Delhi, away from the hullabaloo of the main city, there's nothing better and wholesome than Chandni Chowk.
6. The Lotus Temple
The Lotus Temple in Delhi is one of the most visited places of the world and a unique architectural masterpiece. It's the Bahai house of worship. It's called the "Lotus Temple" because of its flower like shape. The temple allows people from all religions. It was first opened for general public in December, 1986.
Exhibiting Expressionist architecture, the temple has won several architecture and art accolades. Many visitors describe it as a very peaceful place to contemplate and meditate. The environs of the Lotus Temple are spiritually uplifting. It is a must visit for any tourist.
| | |
| --- | --- |
| In Winters | 9:30am-5:00 pm |
| In Summers | 9:30am-7:00 pm |
| Monday | Closed |
| Entry Fee | Free |
7. Sarojini Nagar Market
Sarojini nagar is located in the vicinity of South West Delhi. It is a shopping hub and known for the variety of clothing it sells. The place is frequently visited by the citizens of all classes. The place is known for in budget shopping and if you wish to shop something from Delhi, you must check out the Sarojini Market. Many online influencers and YouTube fashion bloggers shoot here and tell in detail the ways you can make the most out of this market.
| | |
| --- | --- |
| Timings | 11:00am to 8:00 pm |
| Closed on | Mondays |
8. Jama Masjid
Jama Masjid, Delhi is not only a mosque made of marble but also exhibits eye pleasing Indo-Islamic, Islamic and Mughal architecture. It was built by Shahajahan, the Mughal emperor behind the Taj Mahal. It is one of the largest mosques of India. This 17th century piece of religious history deserves to be on the list any person willing to explore Delhi.
| | |
| --- | --- |
| Open on | All weekdays |
| Timings | 7:00 am-12:00pm and 1:30pm-6:30pm |
| Entry Fees | Free |
| Photography Fees | ₹200 |
9. Jantar Mantar
Jantar Mantar, located near Connaught Place, Delhi is a wonder itself and shows the scientific approach of Indian culture. It is a sundial consisting of 13 architectural astronomy instruments. It was built by Maharaja Jai Singh II of Jaipur. It's a sight to behold for any visitor.
| | |
| --- | --- |
| Open on | All weekdays |
| Timings | 9:00am to 5:00pm |
| Fee for Indians | ₹50 |
| Fee for Foreign tourists | ₹200 |
10. The Akshardham Temple
The Akshardham Temple also known as Swaminarayan Akshardham complex is one of the most vibrant Hindu Temples of the country. It's a unique combination of faith and architecture. It fascinated thousands of tourists from every religion every year. It is a display of a millennia of Indian culture and Hinduism. It holds the Guinness World Record of being world's largest comprehensive Hindu Temple. The site holds a unique place in the hearts of all the people who have visited it.
| | |
| --- | --- |
| Open on | Tuesday to Sunday |
| Closed on | Monday |
| Timings | 9:30am -6:30pm |
After getting to know about some really interesting places of Delhi, we hope that it shall become easier for you to plan you tour.
Contact Owic Car Rentals to get in budget and quality tour packages to Delhi.