Raksha Bandhan Celebrations in India 2021
India is a unique country with unique festivals. One such festival is Raksha Bandhan Celebrations in India. Rakhi is a festival celebrated to celebrate the bond between a sister and a brother.
It is celebrated every year by the sister tying a thread [Rakhi] with beads and other glittering decorative materials on the brother's wrist. The custom also involves the exchange of gifts and sweets between the siblings.
The festivities always start with an invocation to the gods, especially Ganesh and Laxmi. The festival of Diwali is much awaited in India. As Dhanteras is being celebrated all over the country today, we are all excited. There are many legends that surround this auspicious day.
Why is Raksha Bandhan Celebrated? The Legend Behind Raksha Bandhan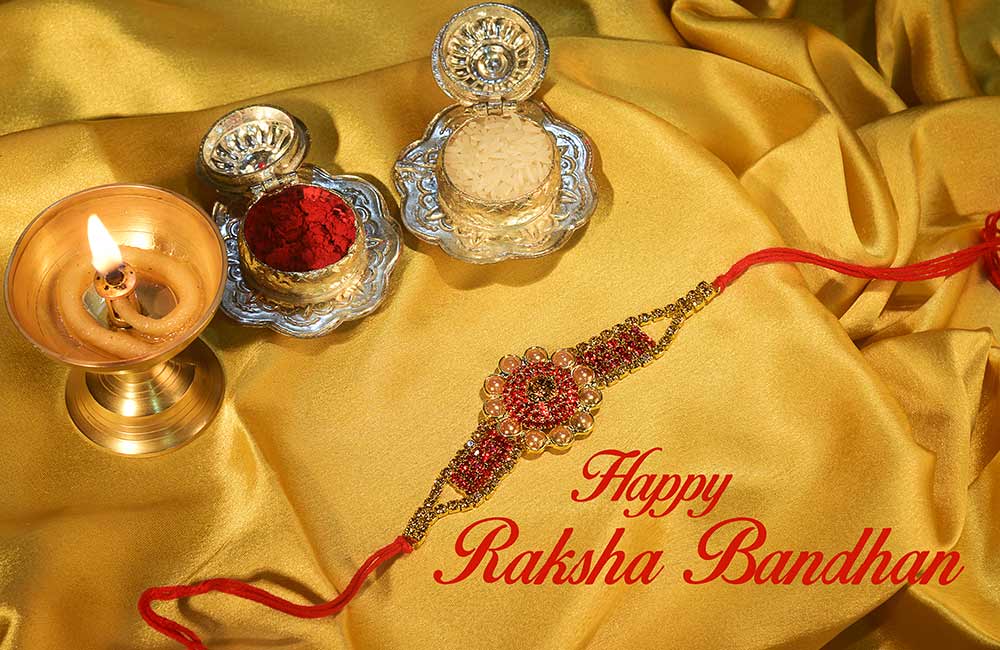 Most of the festivals in India trace their origins to Indian mythology. The Mahabharata, the world's lengthiest epic mentions the origin of the festival. One of the leading female characters named Draupadi uses a fabric of her clothes as a bandage to be put on Lord Krishna's finger on an occasion. Lord Krishna promises Draupadi that he will repay this loan of hers when the right time comes.
Eventually, Draupadi gets disrespected in the assembly hall of the Kurus. Draupadi's five husbands called Pandavas who were also brothers with each other lose a bet in gambling after having put Draupadi on stake. Duryodhana, the prince of Kurus orders his brother Dushasana to bring Draupadi to the hall immediately and undress her.
Dushasana follows his elder brother's orders and mercilessly bring Draupadi to the court by her hair. Draupadi cries and screams for help but none of the warriors come to her defense. Dushasana starts pulling her saree and then a miracle happens. The cloth of the saree never comes to an end and Draupadi is saved from such disgrace. This miracle is done by Lord Krishna and that's how he repays his loan.
According to the Indian folklore, this festival is celebrated by brothers and sisters due to this incident and the sister ties a rakhi on her brother's wrist. Raksha Bandhan ceremony in India. This ancient Hindu festival is also known as Rakhi Purnima.
The Importance of Raksha Bandhan
Raksha Bandhan is an important festival in the Hindu and Indian culture. It signifies that a brother should always be ready to protect and upload the dignity of his sister no matter what situation arises. Raksha Bandhan literally translates to a bond of protection and care and a brother is expected to uphold the dignity of his siter in all the ways possible.
It is usually argued that with changing times and in a world where women can do all the works that men can, is it not sexist to associate women as in the need of protection from a male figure? The question is not baseless but the festival can also be interpreted in a way that teaches our boys to respect all women of society and take a stand for them.
Raksha Bandhan: Miscellaneous
Raksha Bandhan is usually celebrated during the initial or mid-August. One of the chief sweets served during Raksha Bandhan is Ghevar. Ghevar is a medium size-pizza shaped delicacy with a creamy layer on it.
Dry fruits and edible colours are also used to decorate it. A fresh Ghevar is an absolute treat to one's tastebuds. Different types of Rakhis can be seen in the markets of India. They have beautiful badges tucked to them.
Concluding, Raksha Bandhan is a festival of the love and bond between brother and sister and symbolizes the tradition of purity of emotions in Indian culture.