Top 10 Places to Visit in Jodhpur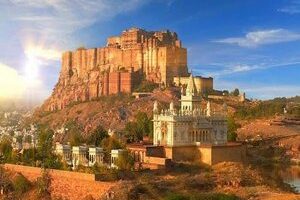 Jodhpur: A Glimpse of Rajasthan Tour Packages
Jodhpur has a history and culture which give the city its uniqueness and attract a number of tourists from around the world.
Jodhpur is the second-largest city in the state of Rajasthan. It is one of the most prominent cities of the state along with Jaipur and Udaipur. It is called the "Blue City" after the predominant colour of its houses and buildings. Also called the "Sun City", Jodhpur is usually considered the cultural capital of Rajasthan. The city is famous for a number of heritage sites including many palaces and forts. Historically, Jodhpur also served as the capital of the majestic Mewar Kingdom. If you have the plan to explore Rajasthan Tour Package with your family. You have an option to get find the luxurious cabs on rent and Jaipur to Jodhpur Taxi booking by Owic Car Rental.
Tourist Places to Visit in Jodhpur
Jodhpur has a history and culture which gives the city its uniqueness and attracts a number of tourists from around the world. If you're planning to visit Jodhpur and want to explore the worth visiting sites of the city, you need to know about the most important and mesmerizing sites of this city. OWIC Blogs have shortlisted top 10 places to visit in Jodhpur to suggest you when you visit the city:
10 Stunning Places in Jodhpur
1. Mehrangarh Fort
Mehrangarh Fort in Jodhpur is one of the largest and well-known forts in India. The fort is located several feet above the city. It has long and thick walls with seven gates. It was built in the latter half of the 15th century by Rao Jodha, the founder of Jodhpur. Some of the tourist attractions in Mehrangarh include:
The Mataji Temple: It is the temple of the Hindu Goddess Chamunda. The temple is visited by devotees in large numbers during Dussehra.
National Geological Monument: The Geological Survey of India has declared the Jodhpur Group – Malani Igneous Suite Contact on which the Mehrangarh Fort a National Geological Monument, visited by a number of tourists and explorers due it's geological importance.
Rao Jodha Desert Rock: This park preserves ecological restored arid vegetation.
Also, there are a number of galleries in the fort which are fascinating for their artistic and historical value.
Opening Hours: 9 am – 5 pm
Entry fee: Rs. 60*
Location: P.B No 165, The Fort, Jodhpur, Rajasthan 342006
2. Umaid Bhawan Palace
One of the world's largest private residences, Umaid Bhawan Palace is one of the major attractions in Jodhpur. The palace has 347 rooms and is the residence of the present Royal family of Jodhpur. It's parts are also managed by Taj Hotels. The palace is divided into three parts:
The residence of the royal family.
The Taj Palace Hotel
Museum exhibiting the history of the 20th-century royal family
Opening Hours: 10 am to 4:30 pm
Entry fee: Rs. 30*
Location: Circuit House Rd, Jodhpur, Rajasthan 342006
3. Jaswant Thada
Cenotaphs are a prominent part of the Rajasthani culture. Jaswant Thada is the Cenotaph built by Maharaja Sardar Singh of Jodhpur in 1899 in the memory of his father Maharaja Jaswant Singh II. It is also the cremation ground for the royal family of Marwar.Its architecture involves very fine craft and finely carved marble. There's also a small lake,a garden and gazebos in its premises.
Opening Hours: 8 am – 5 pm
Entry fee: Rs. 15, Camera/Video: Rs. 25*
Location: Lawaran, Jodhpur, Rajasthan 342001
4. Balsamand Lake
A prominent picnic spot, Balsamand Lake is also a frequently visited site of Jodhpur. Many people come here for sightseeing and enjoy the scenic view around the lake. The lake is as old as 12th century, when it was built by Gurjara- Pratihara rulers.If you're fond of a pleasant weather or want to visit a place to sit and enjoy with family, then it's a suitable place for you.
| | |
| --- | --- |
| Day | Timing |
| Monday | 6:00 am – 8:00 pm |
| Tuesday | 6:00 am – 8:00 pm |
| Wedesday | 6:00 am – 8:00 pm |
| Thursday | 6:00 am – 8:00 pm |
| Friday | 6:00 am – 8:00 pm |
| Saturday | 6:00 am – 8:00 PM |
| Sunday | 6:00 am – 8:00 pm |
5. Kalyana Lake
An artificial lake, Kalyana was built in 1872 by Pratap Singh. The lake is located between igneous land formations. It is the major water source of the city of Jodhpur. Various migratory birds like Siberian cranes can also be found here. It is a good place to find solace and to be in the vicinity of nature. If you're interested in birdwatching and discovering more about them, this place is for you.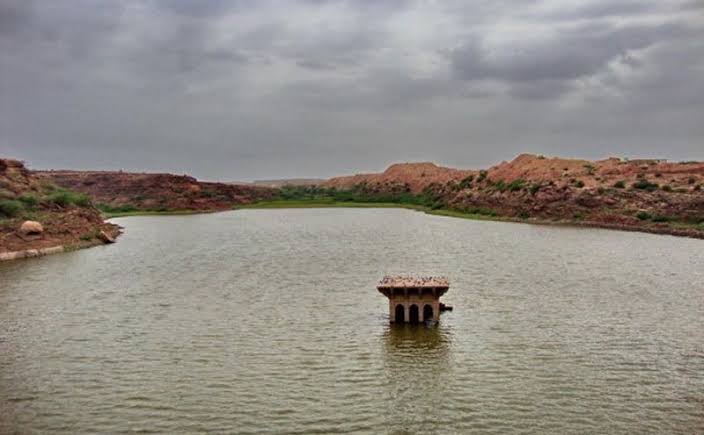 Opening Hours: Morning to Evening
Entry fee: Free
Location: Kalyana Lake, Jodhpur, Rajasthan, 342007
6. Ghanta Ghar
If Big Ben is to London then what is to Jodhpur? – Ghanta Ghar. Ghanta Ghar is a clock tower in Jodhpur, built by Maharaja Sardar Singh. It is located in the Sardar Market, also called Girdikot. The Tower surrounds a busy area for shopping for various items. You can visit Ghanta Ghar and shop for you and your family at the same time. In this way, by visiting the Ghanta Ghar, you don't only discover a famous site, but also witness the beauty of the ordinary and mundane.
7. Mandore Garden
The place is named after one of the most iconic women of the Hindu mythology. Mandodari, the Queen of Lanka and the wife of Ravanna, the greatest antagonist of all time. It is considered to be her birthplace. The Mandore Garden is a mesmerizing and charming place with a number of temples and chhatris (cenotaphs). It houses a number of ruined and intact monuments like the Ek Thakba Mahal. Ravan Temple is another attraction in Mandore as it's quite unusual to find the temple of Ravana in India. It also comprises a government museum called 'House of Heroes" and a Hindu temple to 33 crore gods.
Opening Hours: 4:00 am – 10:00 pm
Entry fee: Free
Location: Mandore, Jodhpur, Rajasthan 342007
8. Dhawa Doli Wildlife Sanctuary
Dhawa Doli Wildlife SanctuaryThe Dhawa Doli Wildlife Sanctuary is situated around 45 kms Southwest from Jodhpur. The sanctuary serves as a preservation centre to a number of animals like the Black Buck, Cheetal, Nilgai, Antelopes, Partridges, Desert Rats and Desert Foxes. If you're an animal lover, explorer or wildlife photographer, this place is suitable for you.
Timings
All days of the week
12:00 AM – 12:00 PM
Visit Duration3-4 hours
Entry fee Entry Fee
9.Mahamandir Temple
Jodhpur has some of most prominent the tourist attractions of Rajasthan. Mahamandir is one of them. Standing on 84 stone pillars, the temple is an architectural masterpiece as it exhibits intricate carvings, frescos and other artwork in its premises. The main deity in the temple is the Hindu Lord Shiva. It has very peaceful surroundings, making it an apt place to spend time.
The temple has various shrines and exhibits considerable stonework, making it a masterpiece of its own kind. Moreover, the temple is frequently visited by tourists for religious purposes. The Mahamandir is a perfect representative of the Indian culture and history where religion and art fuse to form mesmerizing pieces of art.
Mahamandir Temple Day and Timing Details
| | |
| --- | --- |
| Day | Timing |
| Monday | 5:00 am – 12:00 pm4:00 pm – 9:00 pm |
| Tuesday | 5:00 am – 12:00 pm4:00 pm – 9:00 pm |
| Wednesday | 5:00 am – 12:00 pm4:00 pm – 9:00 pm |
| Thursday | 5:00 am – 12:00 pm4:00 pm – 9:00 pm |
| Friday | 5:00 am – 12:00 pm4:00 pm – 9:00 pm |
| Saturday | 5:00 am – 12:00 pm4:00 pm – 9:00 pm |
| Sunday | 5:00 am – 12:00 pm4:00 pm – 9:00 pm |
10. Toorji ka Jhalra Bavdi
Toorji ka Jhalra Bavdi is a well constructed by a Queen. It was a tradition in Rajasthani history that wells and public waterworks would be built by women. The well was built by Maharaja Abhay Singh's Consort. The well was almost in ruins for years and it's only recently, that it is restored again. After the renovation, it's clean and now visited by the tourists. The well has a number of handcrafted designs on its red sandstone.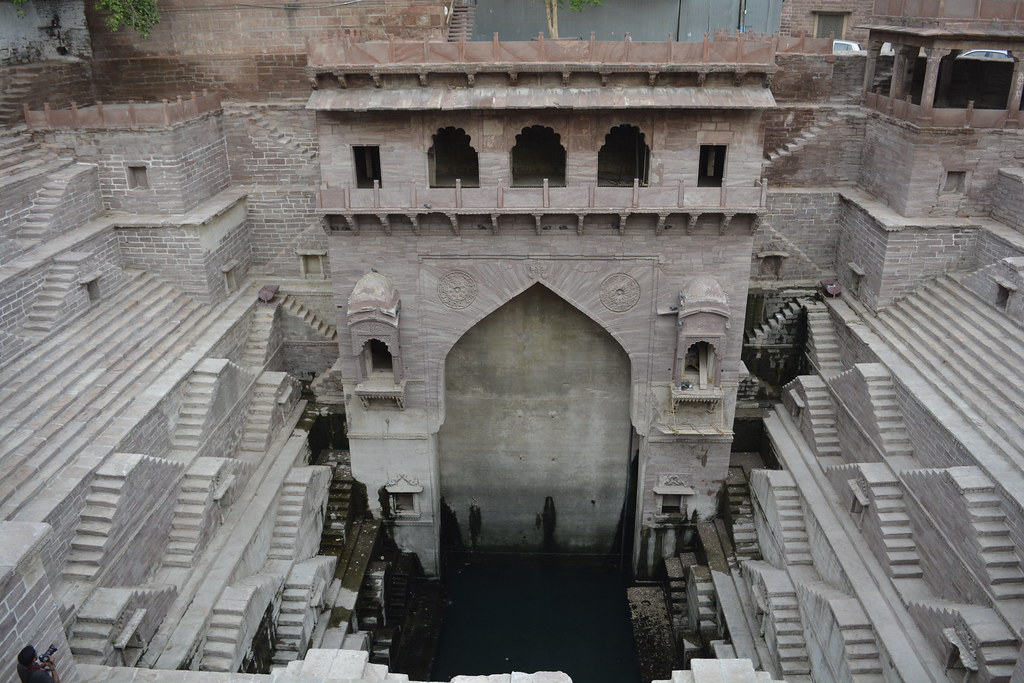 The designs include intricate carvings of medieval lions, elephants and several deities. It is a less explored and not so mainstream site for sightseeing but if one wants to explore something genuinely novel in such an old city, they should visit this place.
Address: Toorji Ka Jhalra, Sutharo Ka Bass Rd, Gulab Sagar, Jodhpur, Rajasthan
Open & Close: Open on all days
Entry Fees: NIL
Visiting Timing: 12:00 AM – 12:00 PM (24X7)
Duration: Approx 15 min- 30 min