Top 5 Places to visit in Ayodhya Ram Mandir Celebration Diwali Festival 2021
Ayodhya is a twin town of Faizabad district of the state of Uttar Pradesh. It is identified as a legendary city and the birthplace of the Hindu God Rama. Hence, the Ramayana, the world's oldest epic is set in Ayodhya. The city came into light during the reign of the Gupta Empire. Ayodhya is one of the holiest cities of the country as a number of myths and legends are associated with it.
Ayodhya has gathered international attention due to the dispute regarding the Rama Janam Bhoomi. Finally, the dispute is over and the apex court has given its verdict in favour of building the Ram Mandir while upholding the dignity and respect of all the religions involved. It has also been ordered to build a Masjid [Mosque] at a different place. Ayodhya also has a Guinness World Record of lighting 450,000 diyas on the occasion of Diwali in 2019.
Ram ki Paidi – Top Things to Do in Ayodhya
Ram ki Paidi on the bank of River Saryu is a series of ghats in Ayodhya in the Indian state of Uttar Pradesh. It is a very significant site for the pilgrims who come here to take a sacred bath and close to the glory of Lord Rama. If you want to get explore tourist attractions in Ayodhya, book One Way Drop Taxi by Owic Car Rental.
It is believed in Hindu customs and traditions that taking a dip in the sacred rivers makes one get rid of their sins and their outcomes. This makes Ram ki Paidi a must-visit in Ayodhya. People of all religions can come here and take a bath or can simply enjoy the serenity of the place.
Kanak Bhagwan Temple
Also known as Sone ka Mandir [the golden temple], the magnificent Kanak Bhagwan Temple was manufactured by Queen Vrishbhanu Kuvari of Teekamgarh of Madhya Pradesh in the year 1891. It gives you an amazing touring experience during the Top 5 Places to visit in Ayodhya.
In the temple, there are exquisite idols of Goddess Sita with Lord Rama and his three brothers wearing gold crowns. The temple is a great example of the architecture of the 19th Century CE. A number of pilgrims and devotees visit this temple every day, making it a very significant temple of the sacred city.
Vijay Raghav Temple
Constructed in 1915, the temple is well known as it presents Lord Rama in 12 different forms called Vishva Virat. The temple is made of red marbles and stainless-steel.
It holds an important place among the temples belonging to the Tingal branch of the Achari Sect. if you're planning to visit Ayodhya, we'll recommend you to visit this temple.
Hanuman Garhi Mandir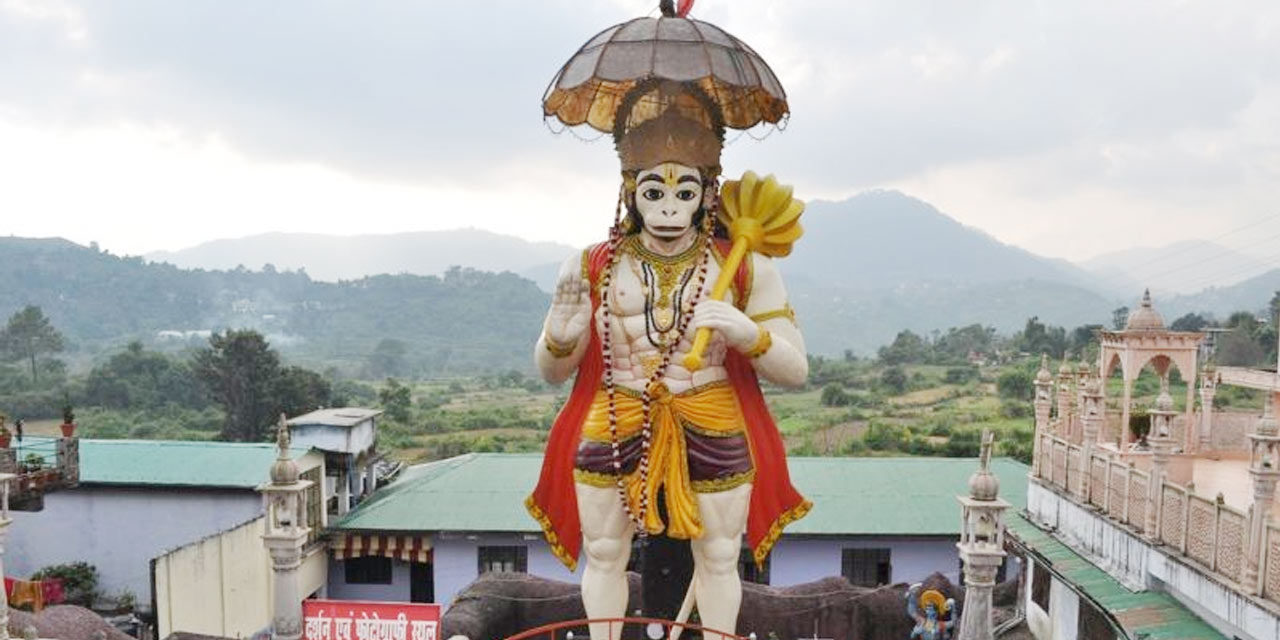 The history of India is as old as time. We have a number of temples, monuments and sites which belong to ancient times. In Ayodhya, one such relic of time is Hanuman Garhi Mandir, built-in 10th century AD. It is dedicated to Lord Hanuman.
Lord Rama's commander in chief, his unmatched devotee and an incarnation of Lord Shiva himself. This temple gives an illusion of a fort from outside due to its architecture. It is one of the most prominent Hanuman temples in North India.
Tulsi Udyaan
Tulsi udyaan is a vast beautiful garden with ornate statues and a lot of greenery. It is just 1.5 km away from Ram Janmbhoomi [the birthplace of Lord Rama] and 1 km away from the Saryu Ghat. It is a place where you can enjoy sitting quietly with peace and solace.
So you can enjoy the top 5 places to visit in Ayodhya, also things to do in the best travel attractions and most famous destinations. But you can read our latest blog updates. Read More…